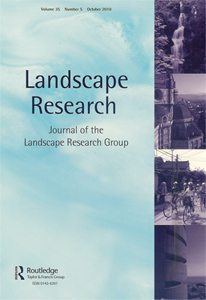 LANDSCAPE RESEARCH, the academic journal of LRG, is an international refereed journal containing a range of articles, reviews and research reports. All research articles in this journal undergo rigorous peer review, based on initial editor screening and an anonymous referee system. Landscape Research is one of the leading journals in the field offering the opportunity for those working in a wide range of landscape-related areas to publish their research results and explore landscape issues. It aims to reach a multi-disciplinary audience through the libraries of numerous universities, research organisations and public authorities as well as individual researchers and practitioners throughout the world. Paper types include Standard Research Papers (4,000-7000 words), Critical Review Articles (4,000-7000 words) and Short Communications (1,000-4,000 words). The journal is published 6 times a year and includes special and themed issues and invited book reviews. The journal Impact Factor for 2009 was 0.714 and it is listed on a wide range of relevant Abstracts.
Paper topic areas include:
environmental design
countryside management
ecology and environmental conservation
land surveying
human and physical geography
behavioural and cultural studies
archaeology and history
Visit the publisher Routledge Journals, Taylor and Francis for more details including: Complete details on the editorial committee, an overview of the aim and scope of the Journal, information for authors, an online overview and access to the contents.
Editorial Board
Editor:
Maggie Roe, School of Architecture, Planning and Landscape, Newcastle University, Newcastle upon Tyne, UK
Consulting Editor:
Dr Ian Thompson, School of Architecture, Planning and Landscape, Newcastle University, Newcastle upon Tyne, UK
Associate Editors:
Dr Anna Jorgensen, Department of Landscape, University of Sheffield, UK
Dr Tom Mels, Human Geography, Gotland University, Sweden
Professor Ken Taylor, Humanities Research Centre, The Australian National University, ACT 0200, Australia
Assistant Editors:
Dr David Jones, School of Architecture and Building, Deakin University, Australia 
Dr Sam Turner, School of Historical Studies, Newcastle University, UK
Dr Vera Vicenzotti, School of Architecture, Planning and Landscape, Newcastle University, UK
Book Reviews Editor:
Dr Mick Atha, Archaelogical Assessments Ltd, Hong Kong and Department of Archaeology, University of York, UK
Editorial Assistant:
Crista Ermyia, School of Architecture, Planning and Landscape, Newcastle University, UK